Butterlap
A weekly leaderless social bike ride around San Francisco!
Time

Wednesday at 7pm. Roll at 7:15.

Place

At Fort Point in The Ferry Building.
Map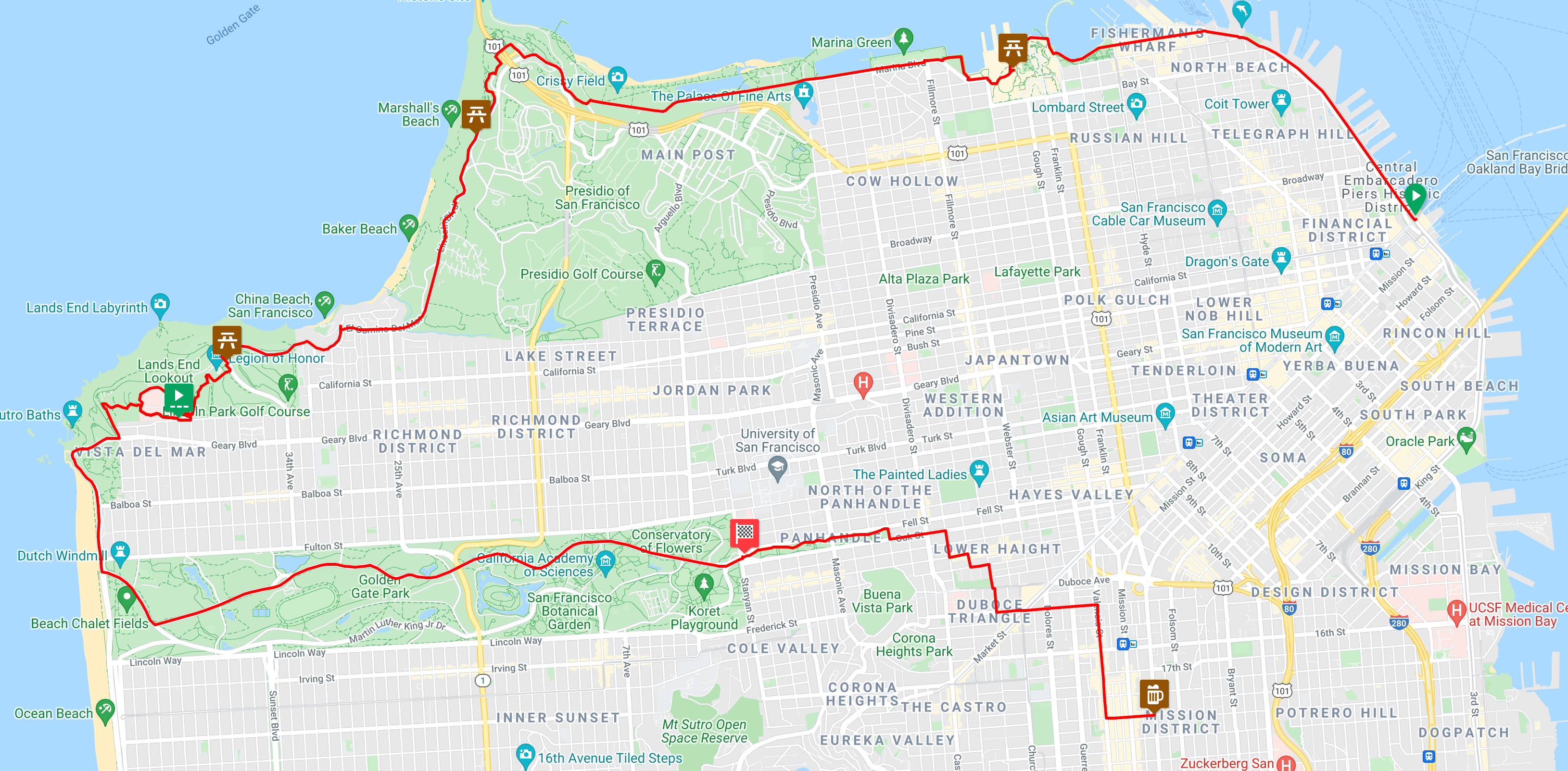 Stops
Fort Mason Great Meadow.
Pacific Overlook.
Legion of Honor.
Clement & 43rd Ave. Regroup for the Hospital Lap.
Ocean Beach. Mini-regroup post-hospital lap.
Panhandle. Final regroup. Lots of folks head home.
FAQ
So how does this work?

Every week on Wednesday people show up and ride bikes. There are regulars, but there's no real leader and people come and go. It's the same route every week so people treat it rather flexibly, some showing up at stops, or riding the route in reverse until they run into folks.

If you're interested in joining up, give a shout, and someone will make sure to get you synced up with others on the ride!

What's the usual turn out?

5-25, average of 10. Even if there is rain, a few folks usually show up.

What kinda ride is this?

Rather relaxed. Most folks show up in work attire. Sometimes, a few in lycra. The first three stops are usually long enough to drink a beer.

How fast do people go?

It's not a super speedy group ride. Faster than Bike Party or Critical Mass, but it's still a no drop, everyone is welcome ride.

What kinda bike should I bring?

Whatever you got! Butter is doable on just about any bike, though gears are recommended. It's all paved, though there are a few options for some hard packed trails if that's your thing.

What else should I bring?

A jacket and some lights are pretty important. Many people bring beers or snacks to share as well.

What time does this ride end?

Usually folks hit the Panhandle at 9:45-10:15. Bender's about 15-30 minutes after that.

I found something wrong on this website. How can I fix it?!

This source for this website is available on GitHub. Pull requests and bug reports welcome.